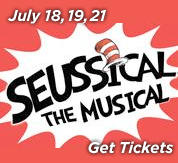 Tickets to our Summer Musical are now on sale!
We're excited to offer online ticketing for Seussical, a musical based on the books of Dr. Seuss that debuted on Broadway in 2000. The play's story is a rather complex amalgamation of many of Seuss's most famous books. Come take part with our local cast, orchestra, and production staff.
Click to buy tickets online.
Cast List for Seussical
Wow! We were pleasantly overwhelmed by the response to our call for talent this year. We saw over 140 talented singers, dancers and instrumentalists. Make plans to support your friends, neighbors and community by attending our musical production this July at Syracuse High School.
Name
Character/Role
Jon-Paul Klepacz
Horton
Heather Steed
Cat in the Hat
Carter M.
Jojo
Skyler S.
Mayor of Whoville
McKenna B.
Mayor's Wife
Megan Williams
Gertrude
Tara Bruce
Mayzie
Janae Whitmer
Sour Kangaroo
Jamie Murray
General Schmitz
Brandilyn H.
Bria H.
Devin W.
Kalena E.
Kobe P.
Spencer F.
Tayden H.
Wickersham
Wickersham
Wickersham
Wickersham
Wickersham
Wickersham
Wickersham
Andrea Thomas
Christine Jensen
Lindsey B.
Michaela M.
Savannah B.
Sienna M.

Bird Girl
Bird Girl
Bird Girl
Bird Girl
Bird Girl
Bird Girl

Kodi Kragun
Yertle the Turtle
Jayne O.
Young Kangaroo
Name
Ensemble
Becky Snarr
Christine Kennelly
Hannah R.
Keeley C.
Kyla Johnson
Libby Fawcett
Sydnee W.

Jungle Ensemble
Jungle Ensemble
Jungle Ensemble
Jungle Ensemble
Jungle Ensemble
Jungle Ensemble
Jungle Ensemble

Adelyn K.
Aleah W.
Alexia W.
Alyssa S.
Anna S.
Brielle K.
Brooklyn S.
Ellie G.
Erin S.
Keriana M.
Leia R.
McKayla R.
Olivia S.

Girl Who / Elephant Bird
Girl Who
Girl Who
Girl Who
Girl Who
Girl Who
Girl Who
Girl Who
Girl Who
Girl Who
Girl Who
Girl Who
Girl Who

Ammon R.
Ashtin H.
Burton S.
Carsyn C.
Christian R.
Coy K.
Dane J.
Gavin M.
Jace S.
Peter R.
Ryan S.
Sawyer B.

Boy Who
Boy Who
Boy Who
Boy Who
Boy Who
Boy Who
Boy Who
Boy Who
Boy Who
Boy Who
Boy Who
Boy Who

Audition Details for Seussical—April 12, 9 to Noon

Actors:
Auditions for "Seussical" will be held Saturday, April 12, from 9 A.M. to noon at the Syracuse Community Center. Dance callbacks will be that same day from 1 to 3. Additional callbacks will be April 16th from 6 to 9 PM. All roles are open.  All roles are volunteer. If cast, you may be responsible to provide for part or all of your costume and props. Auditions are held on a first-come-first-served basis. Please be prepared to wait if necessary. Please come prepared to sing a short excerpt (about 16 bars) from a Broadway Musical in the style of the show. An accompanist will be provided. Sides will be provided when you arrive, and each auditioner will be required to do a short reading from the script after they sing. Please bring a head shot if you have one, as well as your completed audition forms and conflict calendar. **Please note that this year's rehearsal schedule will differ from previous years. More information on schedule can be found on the Audition Form which you can download below.


Download Character descriptions.

Please download, print, and fill out  the SEUSSICAL Audition Form

Please download, print, and fill out a Conflict Calendar.

There will be four performances of "Seussical" July 18, 19 & 21 with a matinée on the 19th.
Director, Marinda Maxfield
Music Director, Jason Steed
Choreographers, Tara Bruce & Candice Dallin

==============================================================================

Orchestra:
Auditions for the pit orchestra will also be held Saturday, April 12 from 9 to noon at the Syracuse Community Center. Tim Koster will be directing. Auditions are first-come first-served. Please come prepared to play an étude or other piece that showcases your talent and skill. Plan to possibly sight-read music as well. The orchestra will include the following:

BASS
CELLO
DRUMS
ERRATA LIST
GUITAR 1
 

ACOUSTIC GUITAR, ELECTRIC GUITAR

GUITAR 2
 

ACOUSTIC GUITAR, BANJO, ELECTRIC GUITAR

KEYBOARD 1
KEYBOARD 2
PERCUSSION
REED 1
 

ALTO SAXOPHONE, CLARINET, FLUTE, PICCOLO, SOPRANO SAX

REED 2
 

BASS CLARINET, CLARINET, OBOE, TENOR SAXOPHONE

REED 3
 

BARITONE SAXOPHONE, BASSOON, CLARINET, FLUTE

TROMBONE
TRUMPET 1
TRUMPET 2
VIOLA
VIOLIN
VIOLIN 2