Accepting Letters of Interest for Production Team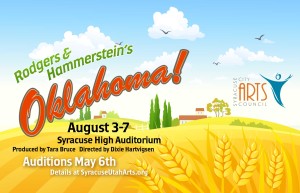 Syracuse City Arts Council is currently accepting letters of interest for our 2017 summer production, "Oklahoma!" The dates for the production are Aug 3-7.
Please submit your letter to info@syracuseutaharts.org with the following information:
• Name
• Position Desired
• Experience
• Contact Information
• Any time restrictions or conflicts from May to August 2017.
Please see the list of Production Team Responsibilities below for more information. Thank you so much for your interest! We look forward to working with you soon!
Production Team Responsibilities
Producer – Tara Bruce
• Make all final financial decisions within the allotted budget
• Negotiate purchases
• Approve reimbursements and forward receipts to Arts Council Treasurer
• Schedule rehearsal/performance space
• Work with Publicity manager to ensure success
• Update the Arts Council of the financial situation of the production
• Work with Cast & Production Team to ensure peaceful relations
• Ability to pick up the random pieces in the non-creative areas that need overseeing and delegating
• Work with High School staff to ensure a good experience for both parties

Director – Dixie Hartvigsen
• Make all final creative decisions regarding the production
• Work with the Arts Council in choosing the production team
• Direct the production team in all aspects of creating the show
• Communicate specific expectations to every production team member
• Communicate concerns and expectations with the Arts Council
• Work with the Producer and Stage Manager in scheduling rehearsals
• Ensure that all roles are open and fairness upheld at auditions
• Work with specified production team members in selecting the cast
• Attend or delegate leadership for all rehearsals
Assistant Director – LeAnna Hamblin
• Complete tasks requested by Director
• Ability to cover and run a rehearsal if asked.
Stage Manager – Taleen Ericksen
• Communicate all necessary information to the cast
• Assemble cast/crew lists
• Keep track of cast/crew attendance
• Keep track of forms, librettos, etc
• Manage all backstage help
• Attend almost all blocking and act run thru rehearsals
• Manage load in and strike
• Call and run the show from backstage
Assistant Stage Managers – AJ Maughan and Kristiann Hansen
• Complete tasks requested by Stage Manager
Music Director – Teresea Melendez
• Teach music to the cast
• Work with Orchestra Director
• Ability to run Musical rehearsals
• Have choral conducting experience
Choreographer – Jamie Godfrey
• Create choreography & teach it to the cast
• Ability to run choreography rehearsals
• Attend as many run thru rehearsals as possible to ensure choreography's integrity
• Have previous choreographing experience
Assistant Choreographer – Chatana Krebs
• Assist Choreographer with the creation and teaching of choreography
• Complete tasks requested by Choreographer
Technical Director – OPEN
• Make sure all technical equipment and sets are working
• Direct stage crew in how to transport technical equipment safely
• Ensure that technical equipment and scenery are created correctly
Prop Master – Rebecca Tedder
• Collect, organize, create and build props
Costume Designer – OPEN
• Create, collect and organize costumes
• Work with Director to create concept boards for cast
Assistant Costumer – OPEN
• Complete tasks requested by Costume Designer
Set Designer – OPEN
• Write up the set and scenery plans
• Have an understanding of the stage and how to use the stage space
• Work with Director in the creative vision of the show
• Work with the set builder to make sure the set is possible and functional
Set Builder – OPEN
• Manage the creation of all set pieces
• Work with set designer and stage manager
• Willing to delegate and manage volunteer group of painters and builders
Lighting Designer – James Rigby
• Design & produce lighting for the show
• Work with all tech helpers in the box
Sound Designer – James Hansen
• Design & produce sound for the show
• Work with all tech helpers in the box
Publicity Manager – OPEN
• Work with Producer and Designer in publicizing the production
• Manage creation and distribution of T-shirts, posters, flyers, newspaper ads, playbills, etc.
Publicity Coordinator – OPEN
• Work with the Publicity Manager
• Recruit cast members in distributing all forms of advertisement
• Manage the float for the Syracuse parade
Publicity Designer – Jason Steed
• Create the production logos and ads for all publicity
• Counsel with Producer and Publicity Manager
• Website ads, Facebook blasts, banners, sponsorship ads, Programs, etc.
House Manager – Bradley Hamblin
• Manages the auditorium at performances
• Instructs/Recruits Ushers
• Takes tickets at door
Box Office Manager – OPEN
• Manages the box office at performances
• Instructs/Recruits box office workers
• Counts/tracks money and reports to treasurer each night at box office close